Presentation
Inventory is the heart and soul of your e-commerce business. Without the proper management, you run the risk of not being able to sell your available products. If you are using a manual inventory system or an Excel Spreadsheet, it is easy to get overwhelmed during high-traffic periods.
Inventory Management for Magento 2 features key functions to help manage stock and warehouse(s) directly from your Magento back-end
​​​​​
Quick Overview
Stock control & omnichannel Support.
Multiple Stocks, Multiple Warehouses.
Track inventory with Stock Movements.
Manage Optimum Inventory with Preferred stock levels
Sell both Physical Stock (Warehouse) or Supplier Stock
User Cases
A growing e-commerce business can sometimes lead to chaos in the warehouse. Out-of-stock products are sold while overstock products disappear from your online catalog.
For the Merchant selling across several channels, such as on the online marketplaces, syncing stock can be very risky for several reasons. Receiving the return of a defective product from a customer and then having to track it to the supplier can lead to a considerable waste of time and money.
A proper inventory system is crucial for avoiding these and other common problems.
Detailed Features
Multiple warehouses
Inventory Management for Magento 2 supports multiple warehouses for omnichannel retailing.
Create as many warehouses as you need to designate your own stock, your supplier's stock (dropshipping) or additional warehouse buildings, offline shops, trucks, events, etc.
Define a Virtual Warehouse to keep track of defective products that you have sent back to the manufacturer
Import a CSV file to update your warehouse inventory in one click, i.e. supplier stock files received via email or from an FTP Folder
Export CSV file including all warehouse inventory details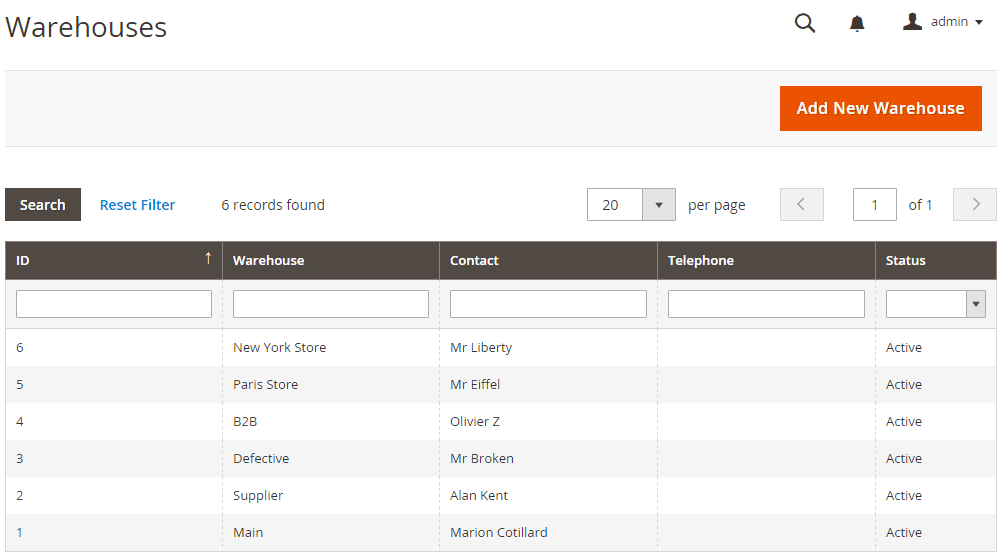 Multiple Stock Support
For each Warehouse in your system, Inventory Management offers 3 different stock levels :
Physical stock: Current Stock in the warehouse
Quantity to ship: Stock quantity booked for sales orders to be dispatched
Available Quantity Stock Quantity in the warehouse available for sale (Physical Stock - Quantity to ship)
Warehouses Routing Rules
Implement your personnal omnichannel rules. Inventory management let you define the sellable quantity for each product. Select from the different Magento Website the warehouses that builds the total sellable quantity.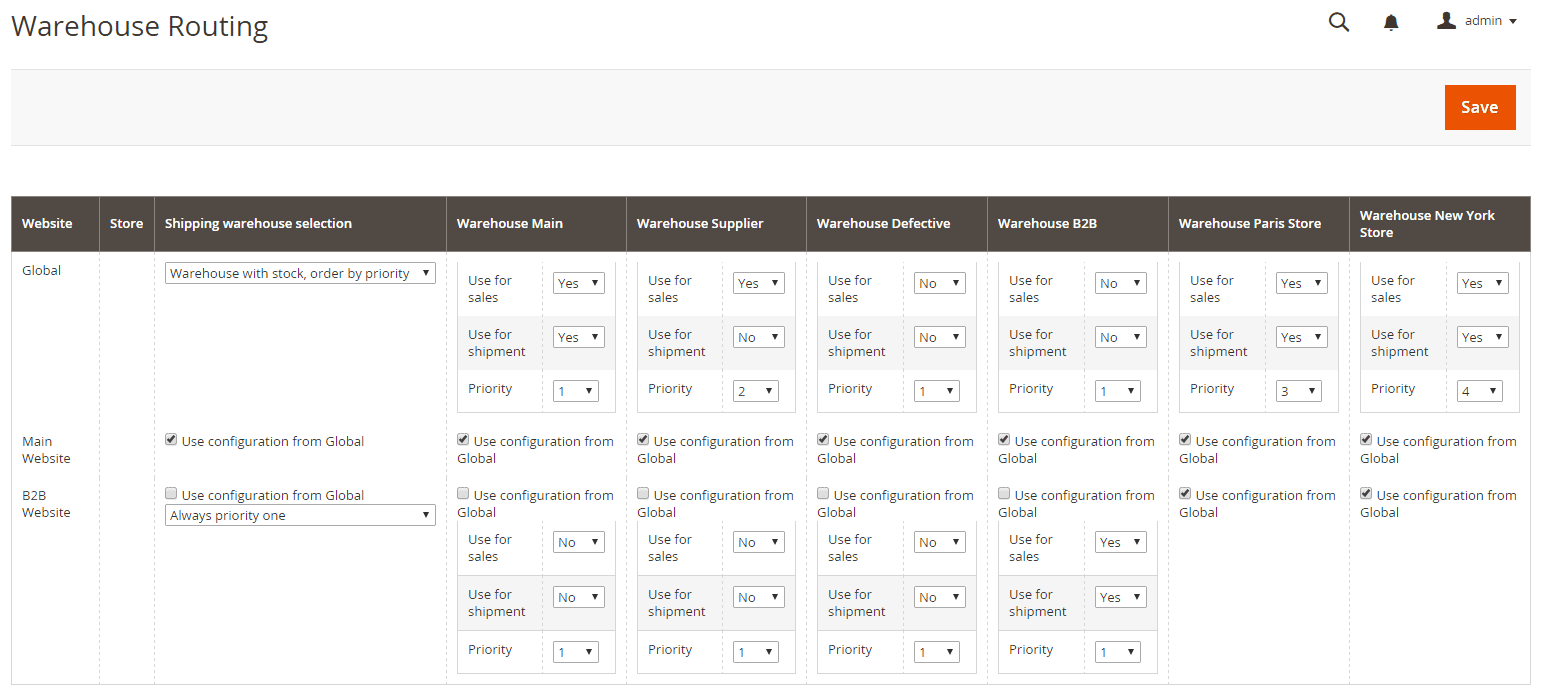 For Instance :
Implement your personal omnichannel rules. Inventory Management lets you define the sellable quantity for each product. For each Magento Website, select the warehouse that contains the total sellable quantity.
For Instance :
B2C website : Main warehouse + Shop + Supplier Warehouse
B2B website : B2B warehouse
Physical Shop website : Shop warehouse
Amazon Website : Main warehouse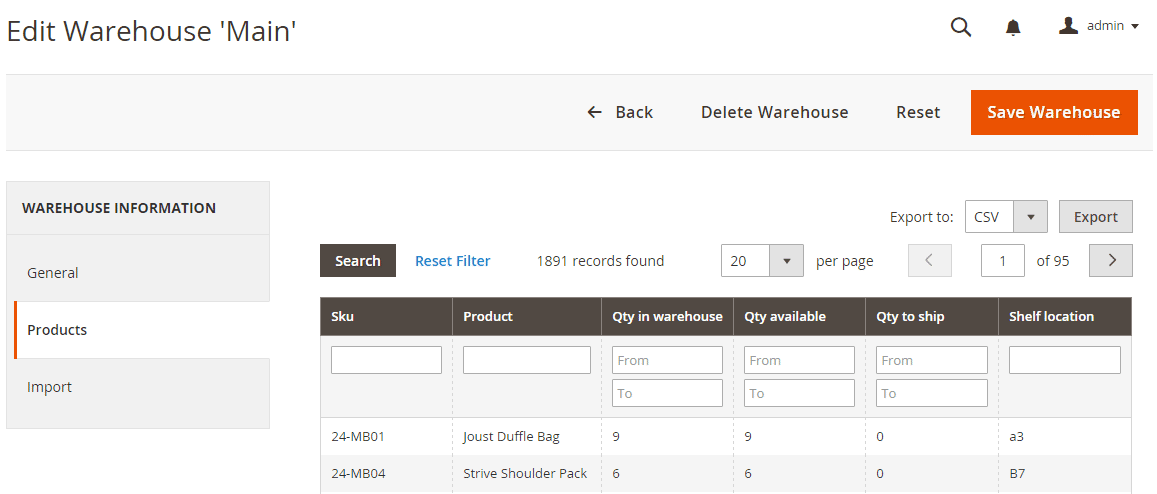 Which warehouse will dispatch the purchased item to the customer?
Associate warehouses for dispatch with your Magento websites for automatic warehouse selection based on stock level.
Compatible with multiple websites.
Stock movements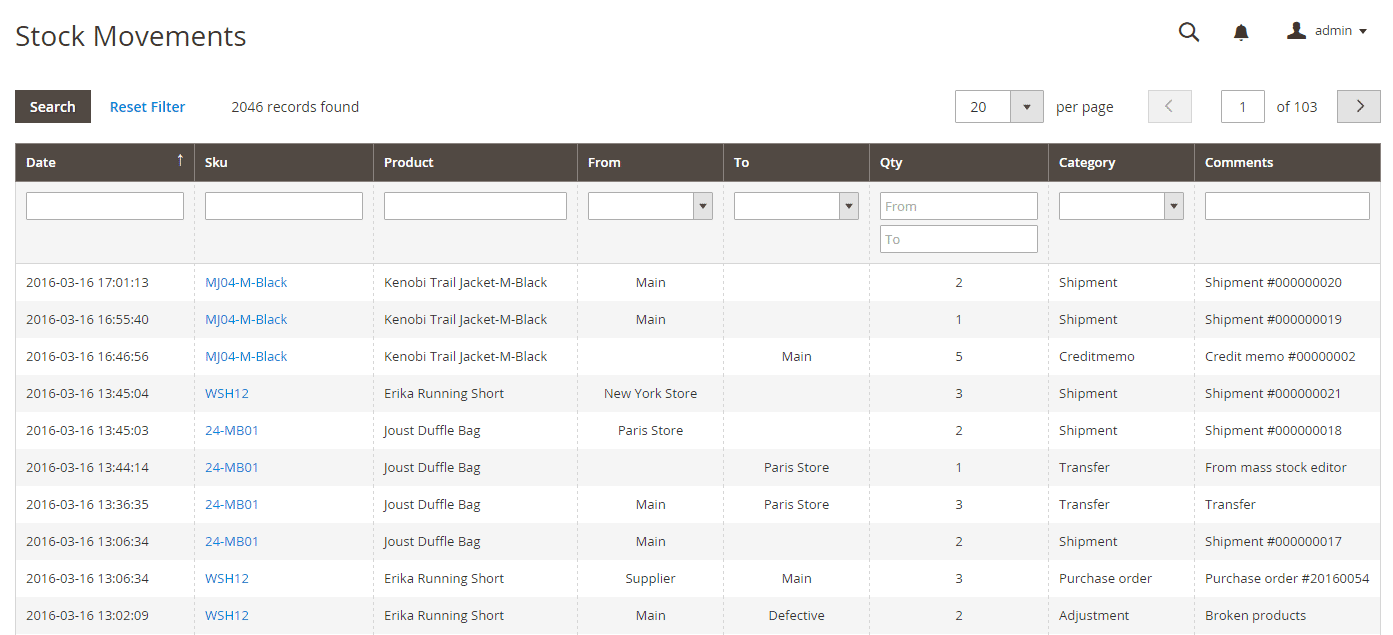 Inventory Management tracks every stock movement
Logs the user that ordered the movement
Movement Category & mandatory description for detailed tracking
Automatic movement on order shipment and credit memo
Stock helper
Control stock levels per warehouse
Analyze sales history for a better inventory forecast and prevent out-of-stock (OOS) products
Adjust preferred stock levels (warning & ideal stock levels)

Mass stock editor
Mass stock quantity update in warehouse and shelf location
​Inventory summary in product profile
​Warehouse stock levels
Pending orders
Stock movement history
Manually create stock movement to update inventory
Features to come
Stock lift
Stock transfer
Discover Embedded ERP Suite
Inventory Management is a component of the Embedded ERP Magento 2 Suite. Since 2008, BoostMyShop has been editing this popular software for Magento CMS to simplify your Back Office Management.
This Magento-dedicated ERP was first released in 2008. Since then, over 4,000 merchants using Magento CMS across the globe have benefited from an efficient automation of their Purchases, optimized stock management and faster order preparation.
Resources
Open Source
15 days Money Back
Free Online Support
1 time Subscription
​Custom Development
​Professional Installation Service
​Training
​Live Chat
Release
---
---