Smart Price for Prestashop
Smart Price monitors and analyses your competition in real time no matter the sales platform or comparison site : your competitor's site, marketplaces (Amazon, Priceminister, FNAC, Cash Express, ManoMano etc…) or Google Shopping.
Integrated in Prestashop, Smart Price is fully secured. Discover Smart Price Easy Setup : the easy to install, easy to configure, get started immediately
Setup video of Smart Price for Prestashop
To install Smart Price on Prestashop with ease, watch our video tutorial.
Start repricing in a few clicks!
Smart Price setup
Download Smart Price directly from the Prestashop Marketplace/Addons
Head over to the menu Module and Services. Download Smart Price from the
Prestashop Addons marketplace. You may then choose the version of the module which corresponds to the version of your website. The version for 1.6 or the version for 1.7, both of which are currently available.
Once the module has been downloaded, you will need to return to the primary screen and add the chosen module.
Proceed with the installation using the install button. Smart Price's installation wizard will launch automatically.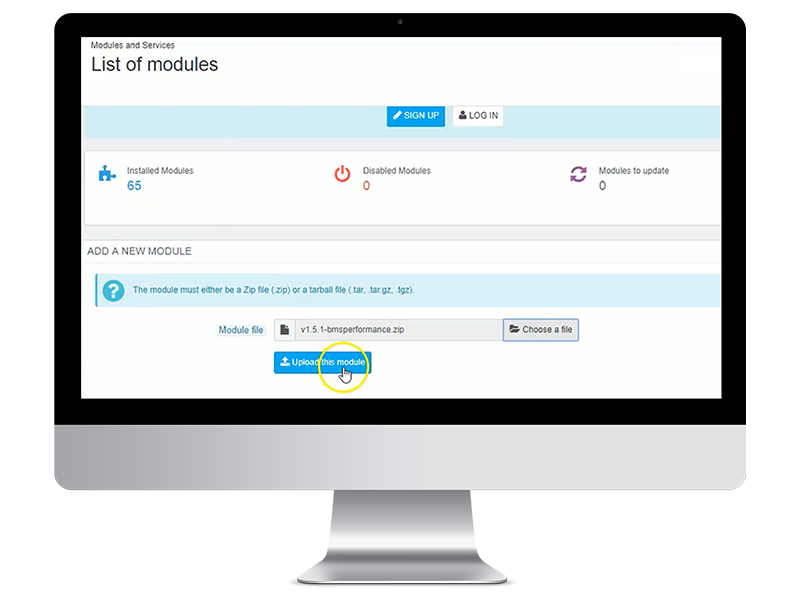 On the first window it is possible to contact our team via a button or you may launch the wizard.
Identify yourself by using your current Smart Price account, or you may create one. For this, you simply need to input your name and email address. Once validated a password will be automatically created for you and sent to the email you inputted.
At this stage you will need to select which channels you wish to monitor and which you would like your prices to be adjusted on.
In the following example we will be selecting the channels : Amazon UK and Google Shopping UK. It's possible to chose over several marketplaces for several countries, such as : Priceminister, la Fnac, Darty, Cdiscount, Rakuten, …
The [next] button will allow you to move on to the following configuration step of the selected channels
Configuration of the Amazon channel
This step will allow us to configure the Amazon channel
In this first section we will defining the different rules we will want applied to our price adjustment (Repricing)
In this example we will be using a profit margin rule of 5% (this will be the minimum margin you wish to obtain from your sales.
It is equally possible to define a margin when there are no competitors : this means that when you are the only seller on a marketplace, this margin will automatically be applied, 25% in our example.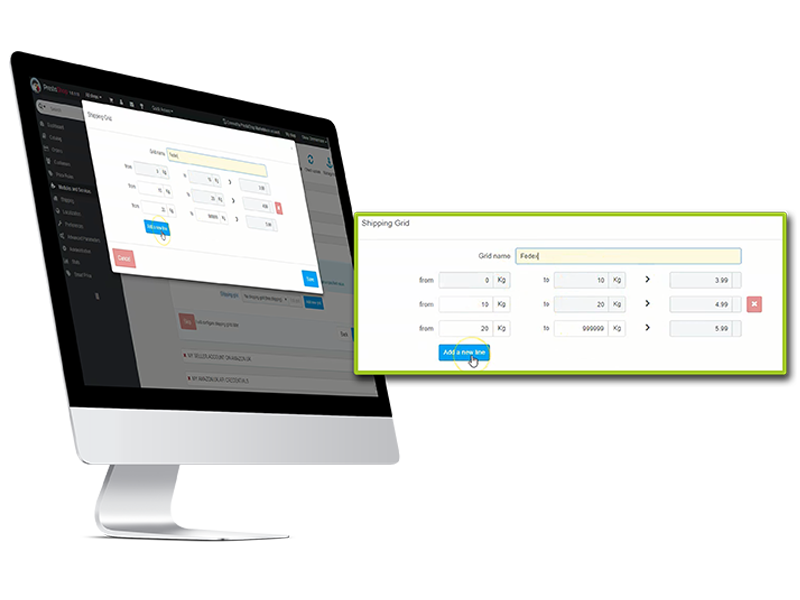 Optional : You may also select a maximum profit for Smart Price to not go beyond no matter the conditions.
During this essential step you will be defining the price adjustment rule based on the competitor who is currently holding the Buy Box.
A default margin you wish to maintain can be set. The commission and the Tax rate can also be applied to the product.
The [next] button will allow you to move on to the following section for Shipping costs where we will be able to integrate a shipping grid. There are rules put in place by default, however it is possible to add new rules to take into account the weight of your products.
We will then be clicking on [Next] to move on to the following step which will handle the seller ID on the Amazon marketplace. This section allows you to identify your seller ID on Amazon to associate it your Smart Price account. An integrated search engine will allow you to find your ID with ease.
In the event that you are unable as you do not currently sell on Amazon and that you simply wish to follow the prices, you can click on the [Skip] button to move on to the next step.
For monitoring and repricing on Amazon we recommend that you input your Credentials: This allows for your catalogue to automatically be matched as well as the commission Amazon takes.
The credentials are the IDs that represent you on the different Sales Channels. We have arrived at the final section for the first part of the wizard. Here we have summarised the choices you selected earlier. Once you have verified these are the rules you wish to go ahead with you may click [Next] to set up your second Channel, which will be Google Shopping UK in our guide.
Configuration du canal Google Shooping
Configurez Smart Price pour Google Shooping
La configuration de ce canal est la même que pour Amazon concernant la section règles de pricing et la partie frais de ports
De la même manière, sélectionnez maintenant vos identifiants vendeur sur google shopping. Le moteur de recherche est identique que précédent, recherchez votre compte vendeur dans la zone dédiée et sélectionnez le.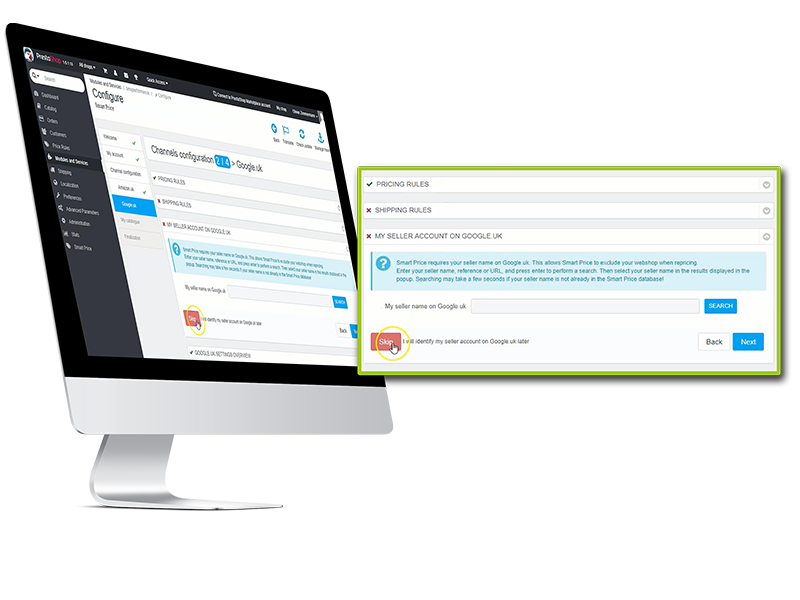 Ici et contrairement à Amazon, Il n'y a pas de credential à renseigner
De nouveau vous retrouvez un écran récapitulatif de votre configuration Google Shopping.
Téléchargement du catalogue produit
Vos produits vont être synchronisés avec Smart Price
Vous venez de configurer vos canaux de vente, nous passons à l'étape téléchargement de vos catalogues produit sur les canaux choisis.
Le bouton [next] permet vous amène vers la section [Catalogue] permettant de sélectionner les produits que vous souhaitez exporter et surveiller avec Smart PRice
Vous pouvez par exemple ne choisir que les produits en stock ou encore les produits avec déclinaisons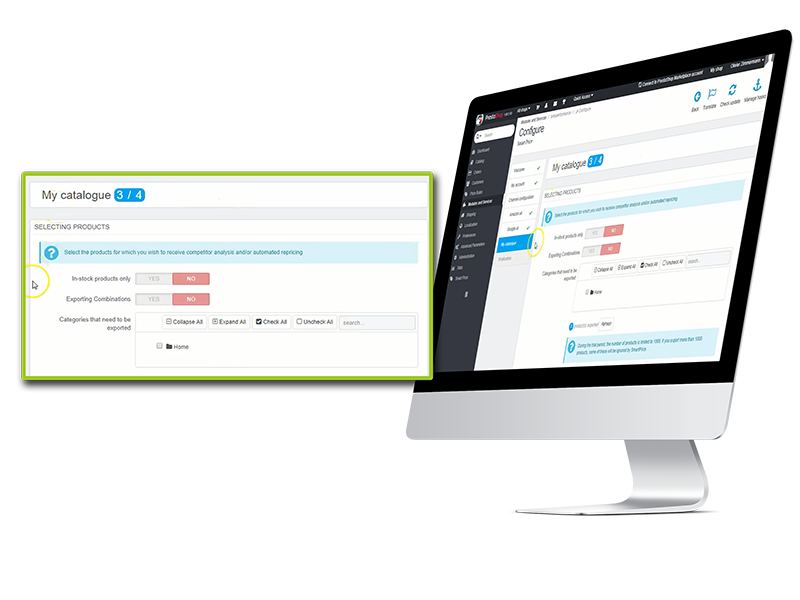 Enfin ici on a accès à la liste des catégories de prestashop
Vous pouvez sélectionner les différentes catégories qui vous intéressent.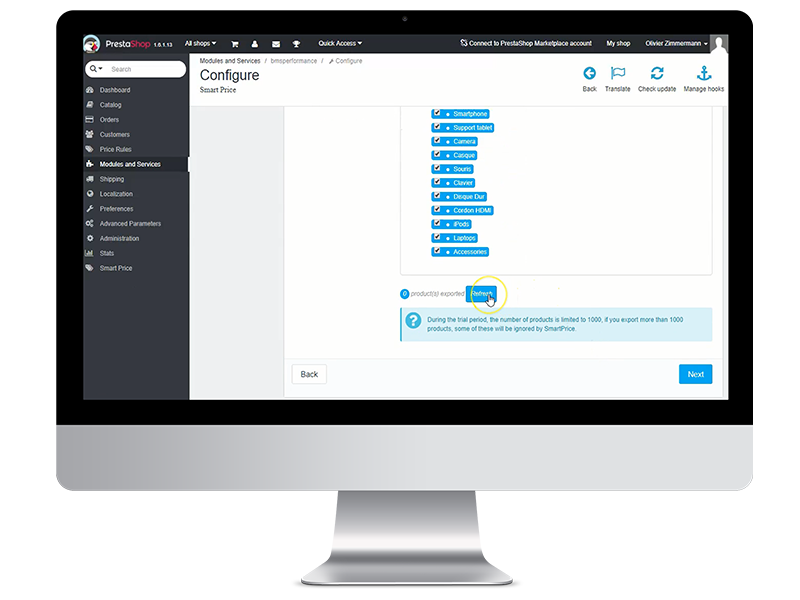 A l'étape suivante après avoir de nouveau cliqué sur le bouton [Next] vous pouvez constater que Smart Price est déjà en cour de téléchargement de votre catalogue produit ce qui lui permet de finaliser le processus de configuration.
Un état d'avancement de l'ensemble de la configuration vous permet de constater que le catalogue a été uploadé et traité à 100%.
La procédure de matching nécessaire à l'association de vos produits ainsi que les calcul liés au repricing sont en cours côté serveur.
Vous serez notifié par e mail à la fin de l'association produits
L'assistant de configuration Smart Price est maintenant terminé et le logiciel correctement installé.
Vous souhaitez une configuration personnalisée ?
Contactez dès à présent notre équipe accompagnement. Vous pourrez affiner votre stratégie de pricing et bénéficier d'un paramétrage sur mesure (Règles de prix complexes, algorithmes dédiés).
Optimisez la visibilité de vos produits