Build a successful repricing strategy in 5 minutes with myPricing for Mirakl
Today, Boostmyshop unveils a new version of myPricing. This version provides a new level of assistance in building your repricing strategy, helping you create a successful strategy in just 5 minutes. The new version of myPricing is exclusively compatible with Mirakl marketplaces, our leading marketplace partner. Mirakl spans 300 marketplaces including some of the biggest names in e-commerce such as Fnac, Darty, Kruger and Worten.  The new version will gradually become compatible with all your favourite marketplaces, such as Amazon.
1)
Identify KPIs instantly
Are your offers competitive? Who are your competitors? What are their prices? There are many questions you may have about your market when trying to build a successful repricing strategy. myPricing gives you all the answers you need in an instant, on a crystal clear chart. All you have to do is connect your marketplace to myPricing, which is a simple operation that requires no technical skills.
With our new version of myPricing, you can see how likely each offer is to win the buybox and where you can improve.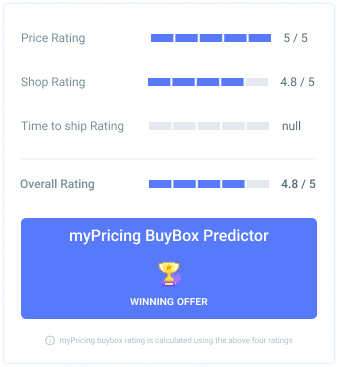 myPricing also allows you to track order acceptance time and your shop's rating on the marketplaces you are connected to, as well as the overall sales performance of your products.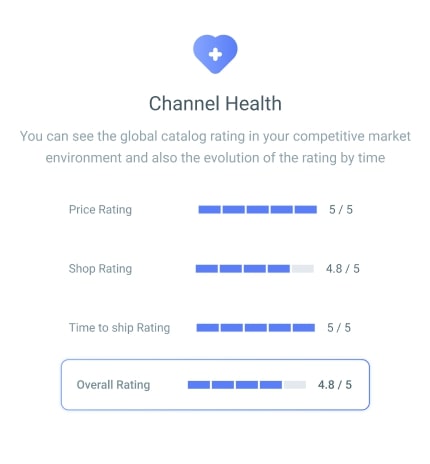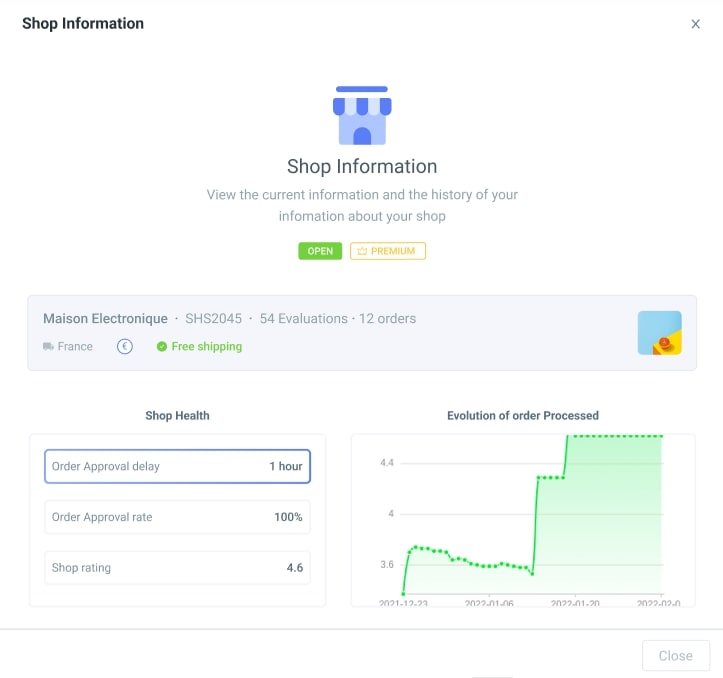 2)
Efficient repricing strategies in just a few clicks!
With our new version of myPricing, you can set up efficient repricing strategies in an instant. You can choose between two different methods.
Reference price strategy:
The fastest way to set up. Set the percentage range for decreasing and increasing your sales prices. Then set your adjustment variable relative to the competition.
Ex: 1 cent below, €1 below, etc.
Our software will then start repricing your products.
Cost strategy:
The best way to maximise your sales margin. In addition to the sale prices that is instantly retrived while connected to the marketplaces, myPricing will need the purchase prices, or even better the cost prices (purchase price + all costs related to the sale of the product such as delivery costs and taxes) of your products to apply this strategy. You can enter them manually or import them in a file.
You will then define the minimum and maximum margin you wish to obtain on these prices, as well as your adjustment variable relative to the competition. Our tool can then start repricing!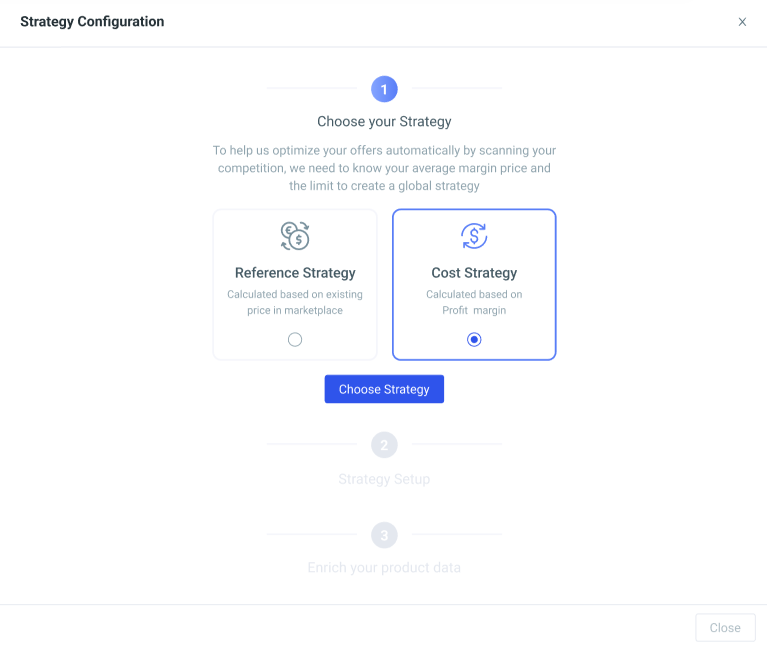 3) Avoid Errors
With myPricing, you can get an overview of the projected performance of your repricing strategies before you apply them. Our software provides a simulation of the result of each strategy before execution. You can then improve the strategy based on the performance indicators provided by myPricing.
Getting set up:
Our decision support tools guarantee you a successful pricing strategy! On average, users of myPricing for Mirakl experience a 20% increase in sales!
Connect your marketplace to myPricing (instant)
Import your product catalogue from the marketplace (30 s)
Set up your pricing strategy (3 min)
Review the simulation and adjust the strategy as needed (1 min 30)
https://www.boostmyshop.com/wp-content/uploads/2022/07/14.jpg
720
1280
Mathias LAPIERRE
https://www.boostmyshop.com/wp-content/uploads/2022/02/logo-boostmyshop-website-2021-3-300x138.png
Mathias LAPIERRE
2022-05-20 15:34:19
2023-06-14 11:00:14
Build a successful repricing strategy in 5 minutes with myPricing for Mirakl