Why use a feed manager in 2021?
Marketplaces have been an important acquisition lever for e-merchants for several years. However, and it is sometimes difficult for sellers to distribute their product catalogue correctly on each of them. This is why feed managers have been created to automate and simplify. Our article explains the different features and advantages of using a feed manager.
What is a product feed?
To understand the usefulness of a feed manager, it is essential to know the definition of a product feed. A product feed is a file (XML, CSV, TXT, etc.) containing information from your product catalogue such as item name, EAN code, description, colour, price, images, stock, etc. It then allows you to send your catalogue from your e-commerce site to a marketplace, a price comparator or platforms such as Google Ads in an automated manner via a feed manager.
What is a feed manager?
A feed manager is a service provider who provides a feed management tool to help an e-merchant who wishes to sell on marketplaces to import his products on the latter. Each marketplace has its own rules and specificities concerning product feeds (visuals on a white background, size of product visuals, length of text, etc.). The feed manager can then be used to configure and export its product feed so that it meets the different standards expected from each marketplace while centralising the data from the product catalogue in a single space.
How does it work?
To integrate the feed manager into your site, you need to download the feed manager module. It must be compatible with the version of your site (e.g. Magento 2).
Once the feed manager is connected to your CMS, it retrieves your catalogue and then acts as an interface between your CMS and all the marketplaces for creating products, updating products, retrieving orders, tracking etc. The feed managers are compatible with a large number of marketplaces and price comparators.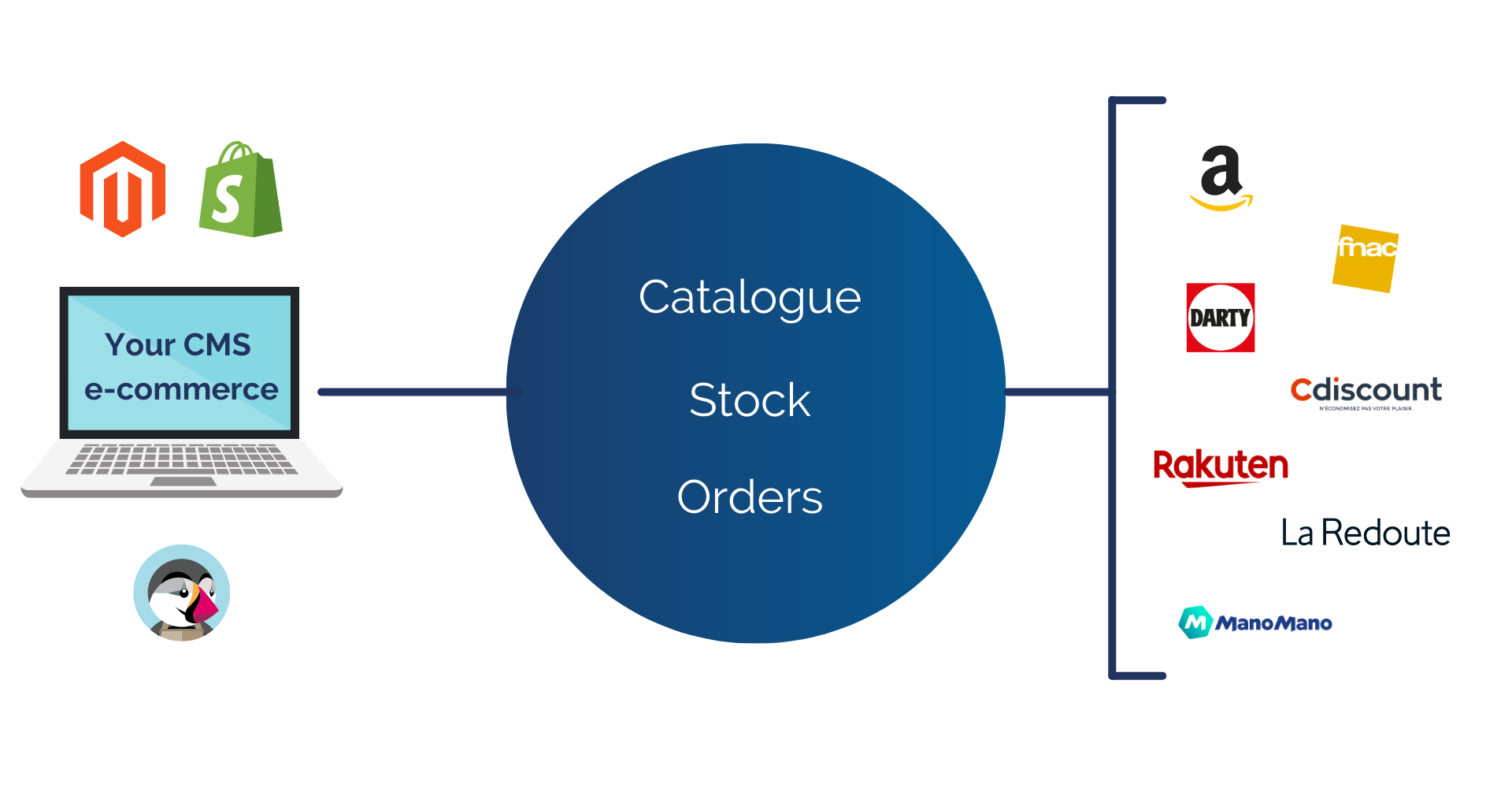 What are the advantages of using a feed manager?
There are many advantages using one.
First of all, you will save a considerable amount of time, as you will not have to manually set up your product feed according to the requirements of each marketplace. A simple download of the integrator's module will allow you to set up your feed in just a few clicks.
Then, your stocks will be updated automatically. If you sell on several marketplaces at the same time, you will display a stock of products which will be updated regularly taking into account your sales on each of them. For example if you sell a product on marketplace X, your stock on the other marketplaces will be updated automatically. This will allow you to sell only products that you have in stock, which marketplaces prefer.
You will also be able to personalise your shipping costs, manage your marketing campaigns differently, which will increase your chances of seeing your products promoted by the marketplaces.
How to choose your feed manager?
Feed managers are useful, but there are many on the market. How to choose? Here are the main features to take into account:
 Connectivity, i.e. the possibility of being able to import your product catalogue via a CSV, XML, TXT file, a URL or an FTP server.
The different channels on which you will be able to import your products.
 The speed of stock updates
 Functionality: your feed manager can offer you a choice of additional functionalities, including APIs to make your different tools communicate with each other, such as compatibility with myPricing for example, or the creation of automatic rules to adapt your product feed to different broadcasters.
Ergonomics, easy to use and to view of your feeds status .
 Volume : make sure that your feed manager is able to handle your product feed if you have a very large number of products.
Support: check whether your feed manager offers you customer support if needed, by ticket or telephone, in your own language.
Associating a feed manager with myPricing
myPricing is compatible with a large number of feed managers such as Shopping Feed, Lengow, Sellermania, Beezup, EasyFlux, Crossmods, etc. Combined with myPricing, your feed manager becomes a real performance tool for selling on marketplaces. Updates to your catalogue are pushed onto the marketplaces several times a day by your feed manager, and, in association with myPricing, we also retrieve the prices of your competitors on these marketplaces in order to adjust your prices while securing your margins.
In order to sell successfully on the marketplaces, you need to have the help of innovative tools. As mentioned in our last article on the Amazon buy box, there are many factors that marketplaces use to showcase your products. Efficient repricing, but also the quality of your catalogue, i.e. the way your product feed is filled in and transmitted to the marketplace, which will all be real assets to be top of list for buyers. Using a feed manager can only be profitable.
https://www.boostmyshop.com/wp-content/uploads/2021/02/Visual-blog-2022-1.jpg
720
1280
Boostmyshop
https://www.boostmyshop.com/wp-content/uploads/2022/02/logo-boostmyshop-website-2021-3-300x138.png
Boostmyshop
2021-02-15 16:04:12
2023-06-14 11:01:28
Why use a feed manager in 2021?